Just one call away...
For all your special occasions or work functions! We will take care of everything you
need to make your next event a success! Catering orders minimum 48 hour notice
.
Over 30 Years Experience Delivering
Great Food... that's just a phone call away!
Ashgrove Road - Cambridge NY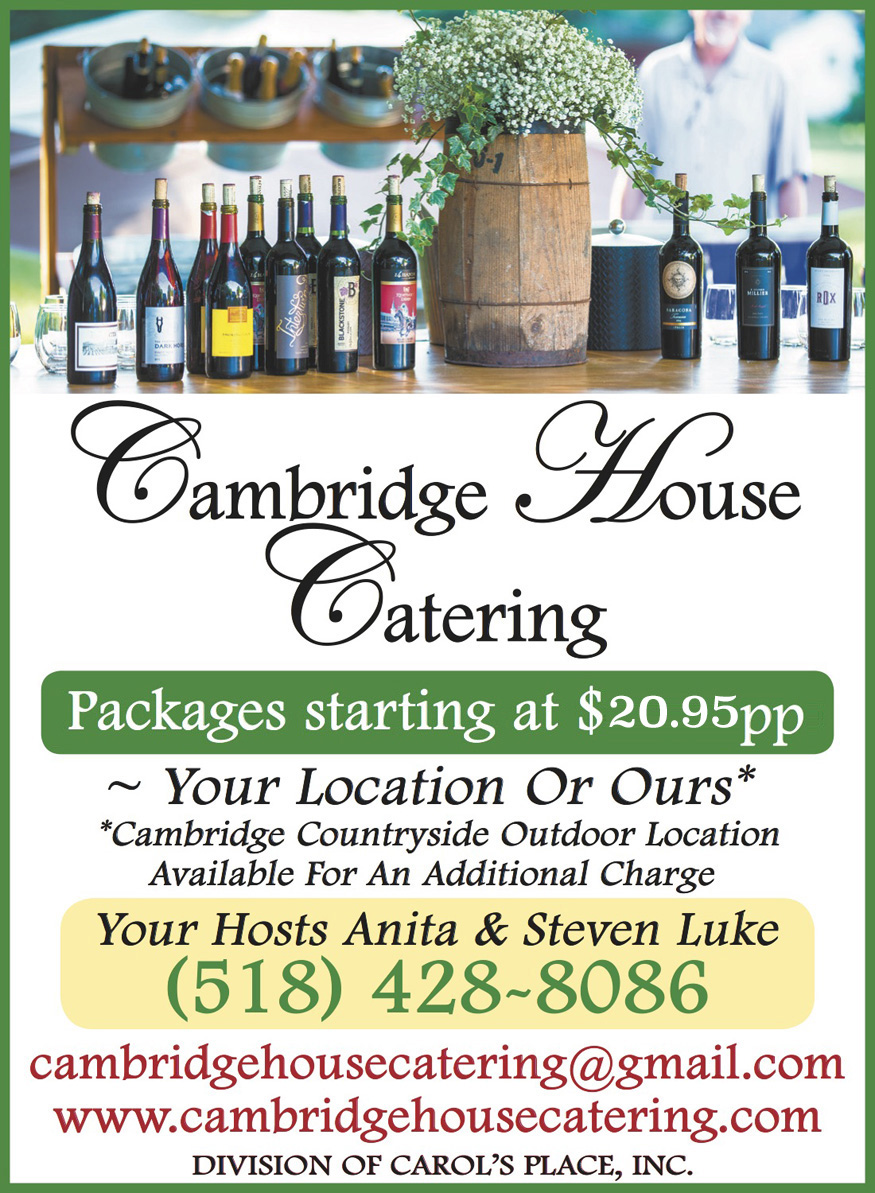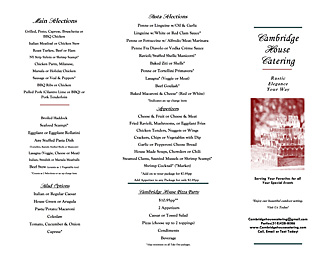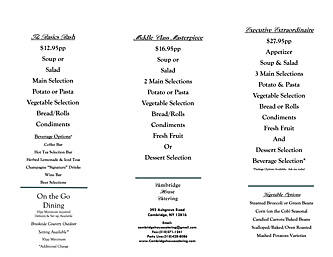 ** Complete Dinners **
For your next Party or Event!! Hot & Ready to Serve!
Choose Ham, Roast Turkey, Pork or Beef, Bruschetta Chicken,
Chicken Parm or Lasagna (Meat or Veggie), w/Pasta or Potato, Gravy,
Salad & a Vegetable. Rolls & Dessert.
$149 (up to 10 ppl) / $285 (up to 20 ppl) / $399 (up to 30 ppl)
Party Platters for All Occasions!
(add to any Package)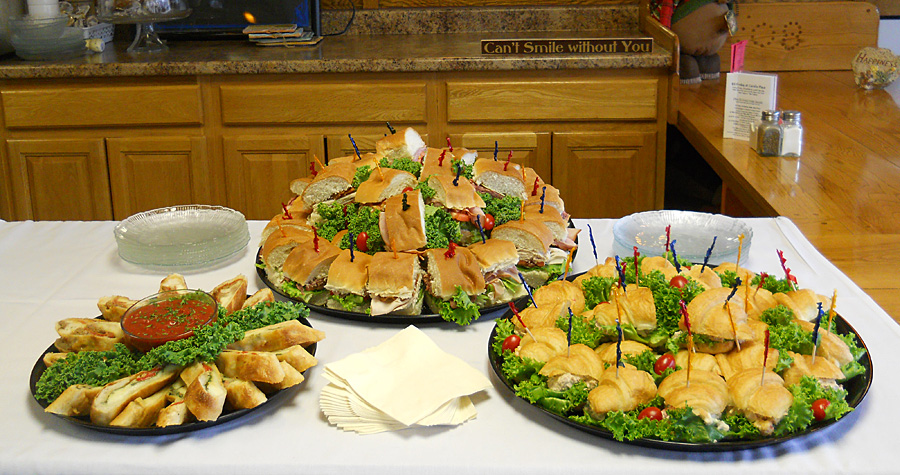 Sub Platters - Wings Platters - Veggie Platters
Mini Sandwich Platters Shrimp & Crab Louie, Seafood Salad & Tuna shown
Garbage Bread Platters, served with Sauce
Made to order: Meatball and/or Pepperoni, Spinach and Roasted Red Peppers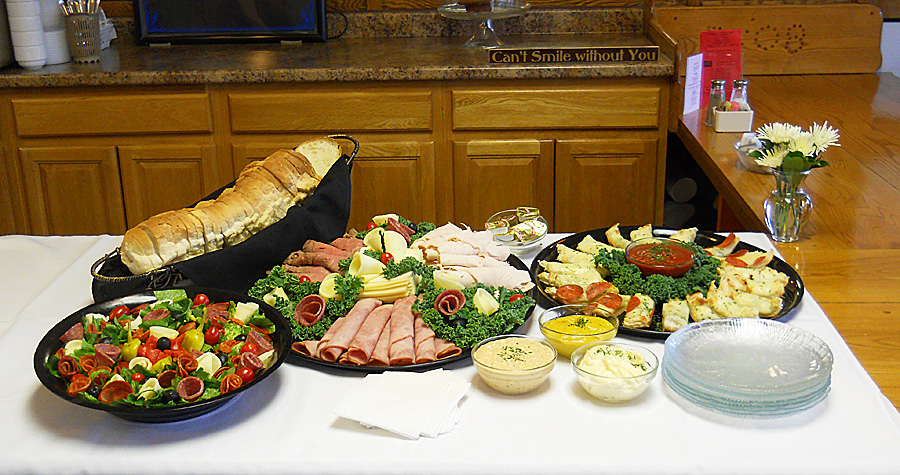 Deli Platters - American and Italian style available
Shown above with Antipasto Salad, Bread Loaf and Garlic Bread w/Cheese & Sauce
Appetizers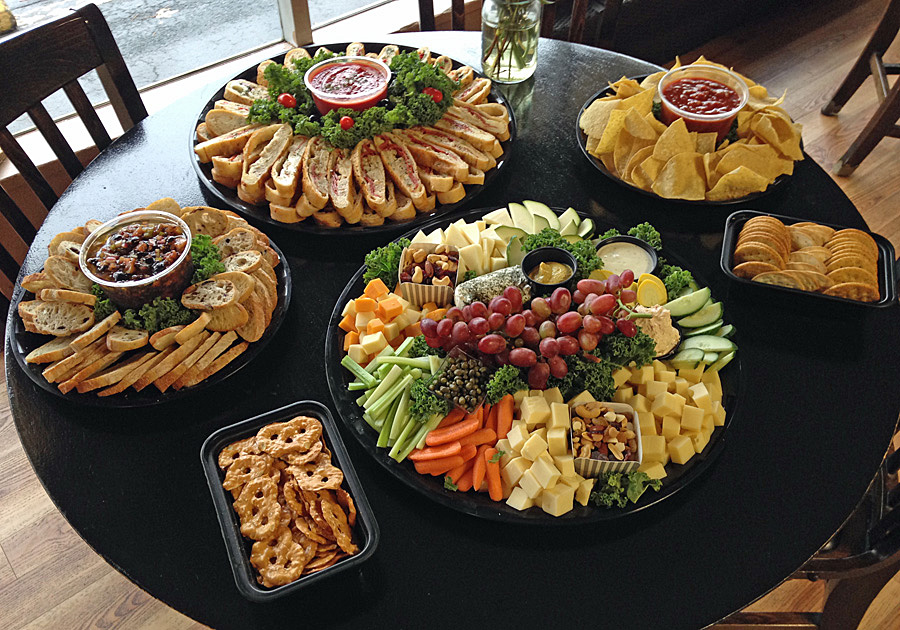 Our Complete Dinners for 10 People for $149.95*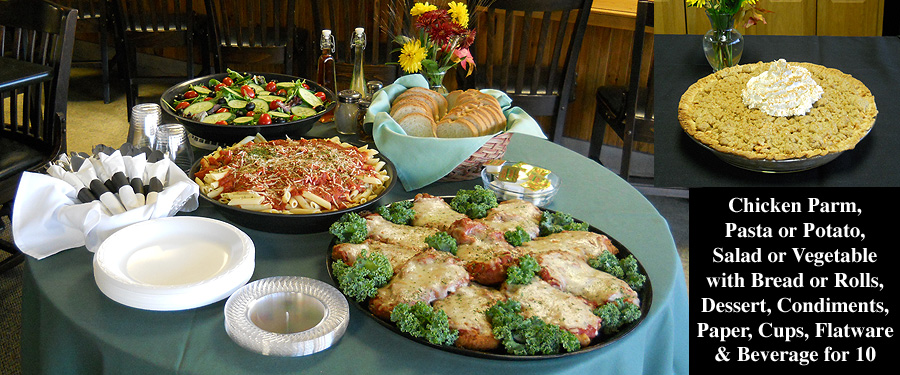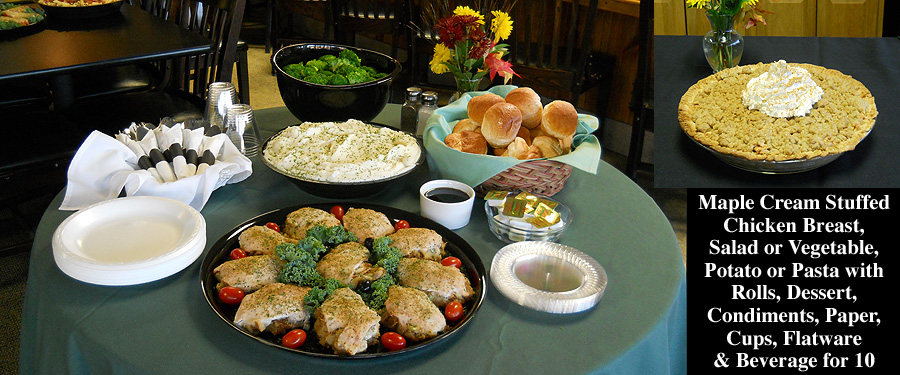 PASTA
Linguini, Penne or Angel Hair
With marinara, Carol's meat sauce or Fra Diavolo with oil & garlic, Alfredo
With Vodka Cream
With Chicken or Sausage
With Seafood or
ITALIAN SPECIALTIES
Cheese Tortellini or Ravioli (with Marinara, Carol's meat sauce)
...or Fra Diavolo with oil & garlic, Alfredo
...or Vodka Cream
Pasta Primavera or Chicken Alfredo
Lasagna (with Meat or Veggies)
Eggplant Parmigiana
Chicken Parmigiana/Milanese/Marsala/Cacciatore
Chicken (Grilled, BBQ or Pesto)
Baked Pasta (Penne, Shells or Spaghetti)
Manicotti, Stuffed Shells or Ravioli
Sausage & Peppers
Eggplant Rottatini or Lasagna Roll Ups
COMFORT FOODS
Roast Turkeys with Stuffing & Gravy
Top Round Roast Beef with Gravy
Italian-Style Meatloaf
Beef Stew (with Beef, Potatoes & Carrots)
Honey Ham w/Pineapple Glaze
SIDES, SALADS & SUCH
Mashed, Scalloped, Home Fries or Oven Roasted Potatoes
Baked Potatoes with Fixin's Bar
Rice Pilaf or Mexican Rice
Candied Carrots/Greem Beans or Broccoli
Potato/Macaroni or Pasta Salad
Coleslaw or a 3 Bean Salad
Chef/Antipasto or Caesar with Chicken
Fresh Mozzarella & Tomato Salad
Tossed Green Salad or Caesar
Tomato, Cucumber & Onion Salad
Baked Beans
Need a quick fix for a large group?
Try our platters:
Vegetable, fruit, sub, cold cut or hors d'oeuvres
Large party subs available (48-hour notice).
Individual trays available too: House Italian
Specialties, Salads or Entrees
BREAKFAST CAMBRIDGE STYLE
Three Options to Choose from, Or design your own!
Beverage Options Available!!
Add BAGEL & CROISSANT TRAY
Includes bagels, croissants, selection of cream cheese, homemade jellies,
butter, garnished with grapes!
Buffets
Sit-Down Dinners
Butler-Style Cocktail Parties
Sit down dinners, family-style dinners, cocktail parties, tea parties, trays,
platters, party sandwich platters, 3-8 foot submarines, Backyard BBQs,
clam steams & much more!!
Linens, chafers, glass & plate rental available too!!
You are not limited to the above selections, many options are available!
Chafing trays are available with a refundable deposit